Round 36: May 2044 (Autumn)
Trent Kirby is 74, Megan is 72, Claudia and Jacob are 43, Daphne is 13 and Iris is 10.
(Everett is 14, Keira and Felix are 13, Byron and Noel are 4 months old)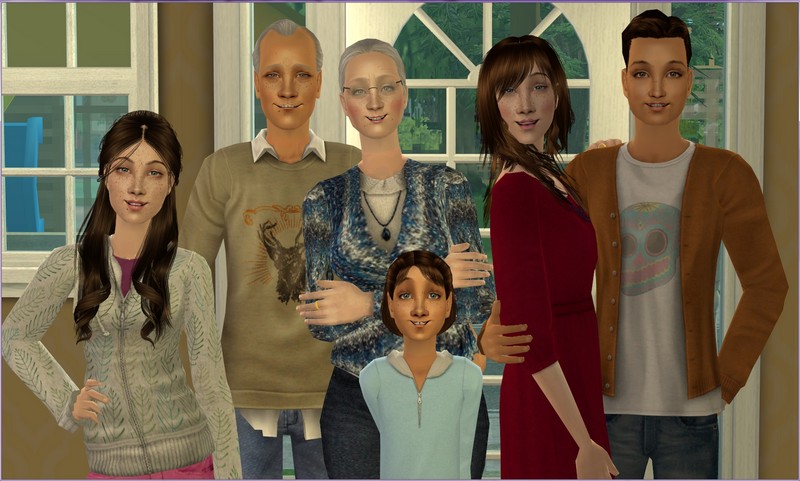 Narrated by Daphne Kirby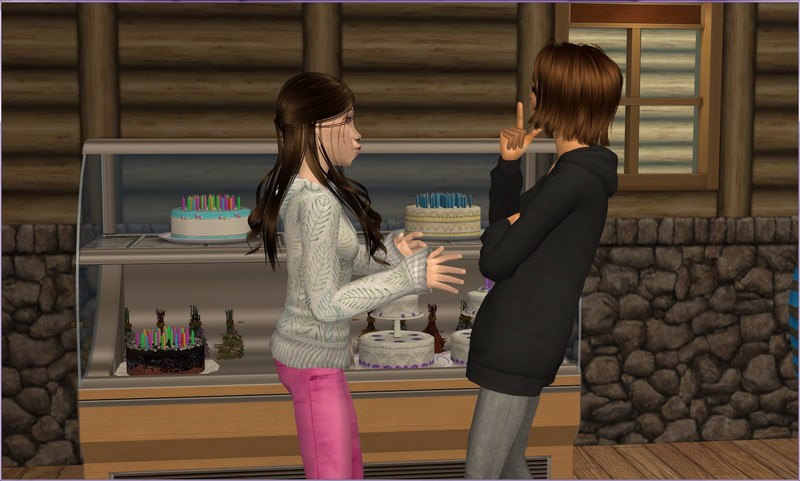 Now that I'm older, I often go across the road to help Mum out at the market. I'll probably get a "real" part-time job when I'm old enough but maybe this will give me some more experience when that time comes.
I've tried sales a little but Mum prefers me to stick to the register, while she takes care of sales.
The register is kind of boring sometimes. We do okay but it's not a constant stream of customers, so sometimes I'm just standing there waiting.
Plus the register is really old and unreliable. Half the time I can't get it open at all and the other half of the time, it opens too fast and whacks me in the stomach.
Mum says I'll get used to it but I wish she'd just buy a new one already.
Iris likes to "help" too. She could stay home with Dad or with Grandma and Grandpa but she doesn't like to miss out on anything.
She mostly just gets in the way but the customers find her charming, so Mum doesn't mind too much.
Grandpa doesn't go to the market too often these days, though he always asks Mum how it's going.
He considers himself retired now and is really enjoying taking it easy.
Most of the work he does these days is of the babysitting variety.
We have babies in the family again, after a long time with none. The last baby on the Kirby side was Iris!
Byron and Noel are super cute but I'm glad it's Grandma and Grandpa babysitting them.
I get to enjoy the fun parts of having baby cousins and hand them over to someone else when it's time for the gross parts!
It's a shame all of Byron and Noel's cousins on our side are so much older than him. It's been so fun growing up with Keira.
All our lives, we've been best friends and we're either at my house or her house for a sleepover at least once a week.
My parents went out for their 14th anniversary recently and Keira came over that night. The nights when my parents are out are the best.
My grandparents are always home, of course, but it still seems more fun.
Probably because they're old and go to bed at 8 o'clock anyway and then Keira and I are basically left to our own devices for the night.
We always sleep in the living room, because otherwise, we'd keep Iris up all night too. We never do that much sleeping, really.
We watch a few movies and then we just chat and laugh until we're too tired to continue.
And we make plenty of trips to the kitchen to raid the fridge for more snacks.
This last sleepover was the first one we'd had in a while, so it seemed like even more fun than usual.
A couple of months ago, Keira started dating Felix Lane and she's been spending a lot of time with him.
Sometimes, we'll make plans to hang out together and then it turns out she's brought Felix along.
I don't have anything against Felix - he can be pretty funny sometimes - but I'd like to get some one-on-one time with my best friend again.
Still, our hangouts with Surprise Felix are better than the couple of times she's cancelled totally, because Felix has asked her out somewhere.
When we do hang out these days, she talks about Felix about 80% of the time we're together.
I'm really not jealous of her. It's just getting kind of boring.
I tried to talk to her about it and she was sort of apologetic about it.
Her solution was pretty annoying though. Now she's obsessed with trying to get me a boyfriend.
She keeps prodding Everett Benton to ask me out and I hope my total lack of interest continues to put him off.
He's nice enough but I'm not interested in him that way.
Even if I was, I'm not allowed to start dating until I'm 15.
My parents don't want me to get into any situations I'm not ready for and they decided 15 was a reasonable age.
Dad especially has been very clear about that. Dating is not happening before then.
I really don't mind. I'm just hoping it'll be enough to make Keira lay off for the foreseeable future.
Mum thinks she's just excited about having a boyfriend and that she'll calm down and be back to the old Keira once the novelty wears off. I hope she's right.
Title is from Peaches and Cream by Beck.
Yikes, exactly a month between updates! It's been difficult to get back into the swing of playing now that I'm back at work but I'm hoping this has got me back on track a bit. I think I should be able to get June birthdays (with a Lane family update) within a week. I'd love to be able to get a few updates ahead of the blog with my playing, like some bloggers can do, but I never seem to be able to do that!
Keira had lots of "kiss" and "date" icons popping up in her conversations with Daphne, so I would think it's all getting quite old at this point! I think it's pretty natural at that age, for it all to seem far more exciting and interesting than it is to anyone else!
Jacob was a victim of ACR's overly enthusiastic woohoo advertising when he was only 13, so I cannot imagine he would be too into the idea of his 13-year-old daughter possibly getting herself in the same situation. Claudia wouldn't either but I can see Jacob having a more personal stake in this. Fortunately for Daphne, no one has caught her eye yet anyway. Poor Everett is interested but it's totally one-sided.