Round 35: December 2041 (Summer)
Josie Clarke is 39, Troy is 38, Jude is 9 and Andrew is 5.
(Zelda is 66, Patience is 39, Audrey, Jack and Charlie are 29, Camilla is 28, Grace and Everett are 11 and Gemma is 7 months)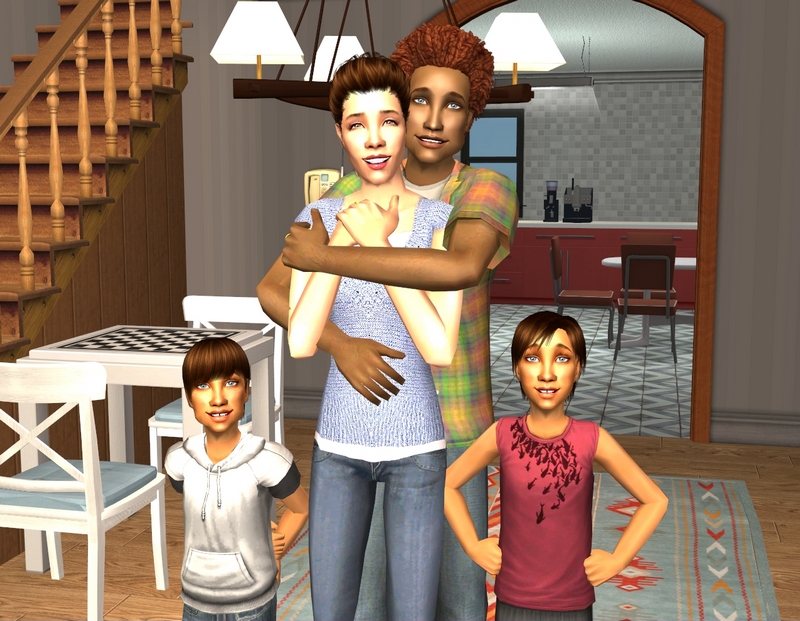 Narrated by Josie Clarke
She's actually a very sweet baby and hasn't given her parents too much trouble. Seeing they're older now and weren't expecting Gemma, Patience is pretty glad about that.
Still, I'm happy my kids can use the bathroom independently and talk to me when they want something. I don't long for the baby days at all.
Troy is on the same page with me, at least for now. He works from home about half the time and his days are a lot easier now that Andrew is at school. He gets so gaga over babies and toddlers though. I'm a little scared he's going start asking for #3 again one day!
I'm hoping playing with Gemma and all the other little ones we know will satisfy him until I'm too old to have another. Other people's babies are definitely enough for me these days.
I really love that Andrew is old enough to play together properly with Jude now. They're very different kids but they somehow get along really well anyway.
Andrew often wants to make trouble but Jude is too sensible to get caught up in it. So then Andrew ends up getting bored with the idea anyway.
It's not quite the same story at school. Andrew is the kid who comes home from school almost every day with a note from the teacher, telling us about whatever incident we then need to talk to him about.
He's actually a pretty great kid when he wants to be but he has some major problems with impulse control!
It seems to be larger group that really set Andrew off, so we were a little worried about taking him to Charlie and Camilla's for Christmas.
They were, for some reason, really excited about hosting this year and we were glad that meant we wouldn't have to do it but Andrew's behaviour was a concern.
We had a talk with both kids before we left, so they knew they were both under warning.
I didn't think Jude would step out of line but I wanted Andrew to know we expect the same of both of them, so he couldn't pull the "unfair" card.
He knows Christmas means presents and he didn't want those to be possibly withheld, so he promised he'd be on his best behaviour.
We watched Andrew like hawks but he ended up being okay.He's been really idolising Everett lately and Everett is quite fond of him too, so he mostly just followed his big cousin around all day.
Andrew's developed an interest in insects and was keen to see the fireflies Everett had captured the previous night.
Andrew likes to try to catch them when he sees them in our yard but he's yet to succeed. This made Everett even cooler in Andrew's eyes.
I hope he didn't get any ideas watching Grace and Everett's punching game. I can see Andrew having a little bit too much fun with a game like that!
I think everyone had a go at Don't Wake The Llama on Christmas Day. The kids all really love Charlie and he hardly got to step away from the table all day.
I was talked into a game at one stage and regretted it. I usually love board games but I find that one such a bore.
I was looking for an excuse to abandon the game, so I was quite grateful to Audrey when she asked if I wanted to go get something to eat. Yes, I definitely did!
It ended up being a bit of a girl talk session (with nosy little Andrew joining us!), mostly focused on babies.
Audrey's due in April, Camilla and Charlie are seriously considering a third and that's all anyone can talk about.
I couldn't resist giving a little bit of advice to them both. I should have become an obstetrician instead of a GP! I really like talking about pregnancy, as long as it's from a medical perspective.
I don't know if they were interested or just too nice to blow me off. I just like having a captive audience, really.
This is the first child for Jack and Audrey and Jack's a bit nervous about becoming a dad.
He's done enough time on uncle duty for the past 10-plus years that I think he'll be fine.
Yeah, it's different when it's your own kids and there are bound to be some surprises. But between our parents, Audrey's parents, her brother, Charlie and me, they've got plenty of experienced parents they can ask for advice.
Jack's really excited at the same time though and can't wait until the baby actually gets here.
Jude's only interest right now is going into Grade 5 next year. He was telling anyone who'd listen all about it. The school is going to start taking the Grade 5 and 6 kids away on camp and that's the main drawcard of Grade 5 for Jude.
Mum thought he'd be a little bit nervous about going away from home without family for the first time but I don't make timid kids. Neither of my boys would be at all nervous about that!
Jude probably needs to cool his jets a little about camp. It's not going to happen until October, so he's got a long, long time to wait!
Andrew didn't cause much trouble this round! He really loves his big brother and he and Everett started rolling wants for each other as soon as I got the Clarkes over at Camilla and Charlie's place, so he didn't have much of a cause for aggression this time around. Times like this I really miss my schools - I'd love to be watching Andrew develop his personality at school.
Andrew had his hobby reassigned, as did Jude. Jude is now Sports and Andrew is Nature. I wasn't sure it fit him at first but I can picture him taking great pleasure in collecting insects, so I kind of love it for him now!
The camp is something I've been thinking about doing with my big kids for a while. I have 10 kids who'll be in Grade 5 and 6 next year, so it seems like a nice manageable group to work with on something like that. I probably won't do a whole update about it but I'll do some photo spam on Tumblr (linked here, of course) and if anything exciting happens, I may work it into an update or two. It might be a nice compromise, seeing I can't do actual school updates at the moment.