Round 37: March 2045 (Autumn)
Annabel and Georgina Nott are both 21.
(Lia is 48, Simon is 20 and Sylvia is 19)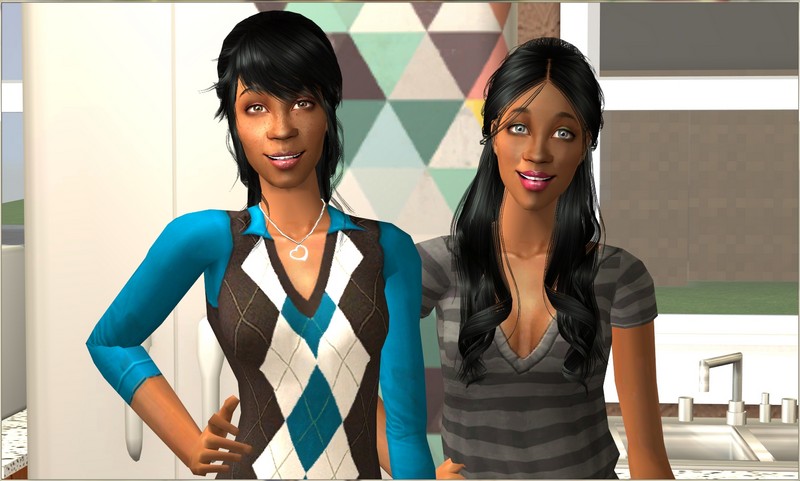 Narrated by Annabel Nott
Georgina and I decided we were done with the dorms at the end of last year, so we're now renting our own place on campus.
Well, I decided, anyway. I just can't afford the rent on my own, so I convinced Georgina to come with me.
Getting so close to the end of our time at uni and the beginning of the freedom of adult life, dorm life was just getting really old. Rules about noise, rules about mess, crappy food, having to lock your door in case some weirdo just wandered in and made herself at home. It never ended.
Most of that is better living with Georgina, though I did sort of forget she was such a grandma sometimes.
God forbid I make any noise at all while she's studying.
I don't know why she can't just go to the library when she wants to study. It's always quiet there.
Georgina loves to remind me that one of the ways I sold her on our own place was telling her it'd be quieter and therefore, she should be able to study at home.
She studies to all hours sometimes, so as much as I hate to admit it, she does have a point about that.
I haven't become quite the scholar Georgina is but I have been putting in a little more effort recently.
I've been doing my readings for class and writing my papers without Georgina forcing me.
I'm not sure I'll graduate with a GPA high enough for vet school but I'm hoping against hope that I will.
I guess when you have nothing else to do, studying becomes more appealing. I had a little thing going on with Simon for most of the time I've been on campus but we haven't hung out recently.
Georgina saw him with Sylvia Draper, a sophomore, and said they looked pretty cosy, so I guess that explains why.
I'm fine with it. We weren't really a couple and to be honest, we really don't even get along very well (which was the reason we broke up in the first place). But Simon did make things a little less boring in my life.
Georgina is convinced I'm more upset about it than I actually am. It's very sweet of her but I'm fine.
I think she's mostly trying to distract herself from thinking about her own boyfriend, Adrian.
Last year, I thought maybe they were getting pretty serious but she's gradually been pulling away from him.
She rarely talks about him any more and she gets all weird and anxious when they go out, like she's not really looking forward to it.
I did get her to admit that things aren't the same between them any more.
Adrian is still very sweet and they get along and everything. It's just romantically, Georgina isn't feeling it.
It seems totally one-sided though, as I think Adrian is still pretty into Georgina.
Georgina has so far been too soft-hearted to actually break things off, so she's still been dutifully accepting his invitations for dates and trying to pretend she's still in love with him.
Mum probably isn't very helpful, because she just loves Adrian.
She attended a library conference here on campus recently and came to our place for dinner afterwards.
Much of the talk centred on Adrian. Mum really is very fond of him.
It's really important to Georgina that Mum likes her boyfriends but honestly, she'd probably like anyone Georgina brought home, because Georgina just happens to be attracted to the kind of nice boys Mum likes.
I'm the one who has to worry about her hating my boyfriends, because I don't go for "nice boys".
Next time Georgina started fretting about Adrian, I decided to sit her down and talk it out with her.
How long was she really willing to keep this up? Was she going to marry the guy, just to spare his feelings?
Poor Georgina just hates confrontation and the idea of hurting someone…but really, it would only get more hurtful the longer she drags it out.
Eventually, she agreed that the kindest thing to do would be to end it now, before he wants to get too serious.
She didn't want to do it but she bit the bullet and did it anyway.
Adrian was upset and Georgina felt horribly guilty about it, even though she really did think ending it was the right thing to do.
She was still pretty bummed about everything the next day but I did manage to drag her out to have a drink with me instead.
I thought it might take her mind off things for a bit and put a smile on her face.
She cheered up a little bit but she was ready to go pretty early.
Since then, she's thrown herself into her painting and her books.
Attempts to get her out of the house again have been mostly unsuccessful. She feels better not having to pretend any more but she's still worried she's broken Adrian's heart.
I'm going to give her some more moping time and then drag her out with me again. She's done the right thing and there's no need for her to beat herself up about it.
Title is from Movement by LCD Soundsystem.
Georgina will graduate with a 4.0 - surprise surprise! Annabel will graduate with a 3.4. She managed to raise her GPA slightly, seeing she got the want to write her very first term paper this session! Unfortunately, she only ever wrote that one, so she couldn't get her GPA up to the 3.5 she'd need for vet school (a figure I decided on right before I started playing my college kids this year). I have other plans for Annabel though, so I'll talk about those in the graduation post in January.
Adrian was rolling a LOT of wants for Georgina but Georgina was rolling no wants at all for Adrian this year. She wasn't rolling many last year either. I almost broke them up then but decided to wait until now, where I had more time to deal with it properly. I think I'll visit the girls again when their birthday rolls around in October, just to tie things up with Georgina.
Annabel and Simon were never meant to be and she knows that as well as anyone. I don't think she'll be shedding too many tears about Sylvia.