Ever since I found out how sims get their One True Hobby, I've hated it. The way it's done basically means that all of your sims of one particular hobby will have similar personalities. That makes sense for some hobbies - sims who are into Fitness or Sports should probably also be active, for instance. But why, for example, do Arts & Crafts sims have to be nice? Why do Nature sims have to be playful? A lot of the criteria EA came up with just seems really arbitrary to me.
So I started randomising my sims' OTHs at birth. I was satisfied with that for a while, but after I had been using Starr's careers criteria for a while (which is partly based on interests), I thought I might try tying interests and hobbies together. This was a good while ago now but it's only recently that I decided to fine tune my system.
I'm going to start by showing which interests I assign to which hobbies. Then I'll show you a couple of examples of exactly what I do with that information to decide on hobbies for my sims, using a couple of Sullivan babies as guinea pigs. Babies are sort of blank slates anyway and I'm not yet wedded to the idea of any one particular hobby for them.
Anyway, so on with the interests!
Arts & Crafts:
Culture, Fashion, Toys, Work
Cuisine:
Culture, Health, Food, Travel
Film & Literature
: Entertainment, Culture, Travel, Sci-Fi, Money, Crime, Politics, Paranormal, School
Fitness:
Health, Sports, Food
Games:
Toys, Entertainment, Sports
Music & Dance:
Entertainment, Culture, Money, Travel
Nature:
Environment, Weather, Animals, Travel
Science:
Sci-Fi, Paranormal, Environment, Weather, School, Health, Animals
Sports:
Sports, Money, Entertainment
Tinkering:
Toys, Work, Sci-Fi
Some of these hobby/interest matches might be making you go "huh?" I did have my reasons for each of them though, so if you're curious about any in particular, just ask. I was going to explain them all but it got really long and rambly and really, this is long enough!
When I want to assign a hobby to one of my sims, I look at what they have a high interest in. "High interest", in this case, means 7 points or more. Some sims have 7 points or more in a ton of interests and some will have it in only a few.
The easiest way to explain the next part is to launch right into an example. Let's have a look at Zoe Benton's interests.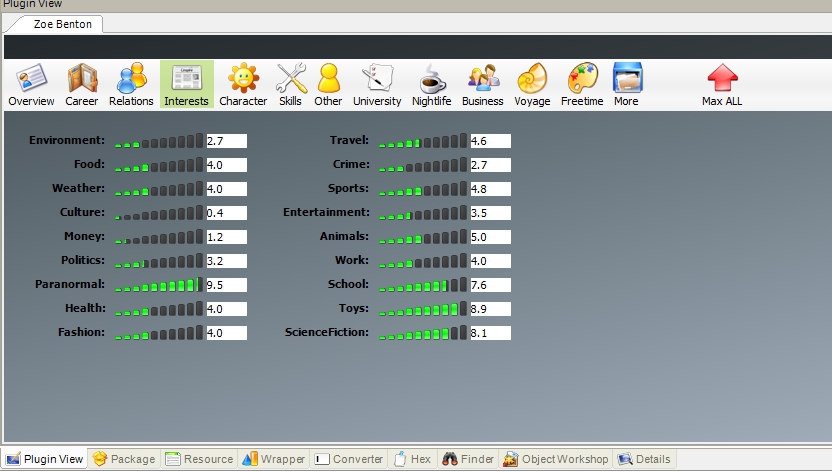 I normally check interests in game but this is the SimPE interests tab, so it's displaying Zoe's exact interest points, down to the decimals. I'll be rounding them off for this. So Zoe's highest interests are Sci Fi (8), Toys (9), School (8) and Paranormal (10).
Zoe has no interests that relate to Cuisine, Fitness, Music & Dance, Nature or Sports, so we can eliminate those right off the bat. That leaves us with Arts & Crafts, Film & Literature, Games, Science and Tinkering.
What I do now is check how many points she has in total in the interests that relate to each hobby. For Tinkering, Arts & Crafts and Games, she gets 9 points for each, due to her interest in Toys. For Science and Film & Literature though, she gets 18 points for her interest in both Paranormal and Sci-Fi. Seeing she has equal scores for two hobbies, I need to make a decision between them. I won't necessarily always decide the same way but for Zoe, I think she'd be more likely to be into F&L. With a Music & Dance mum, it just seems to fit better than Science.
Let's try this with one more of my babies. This time, we'll look at Mason Novak.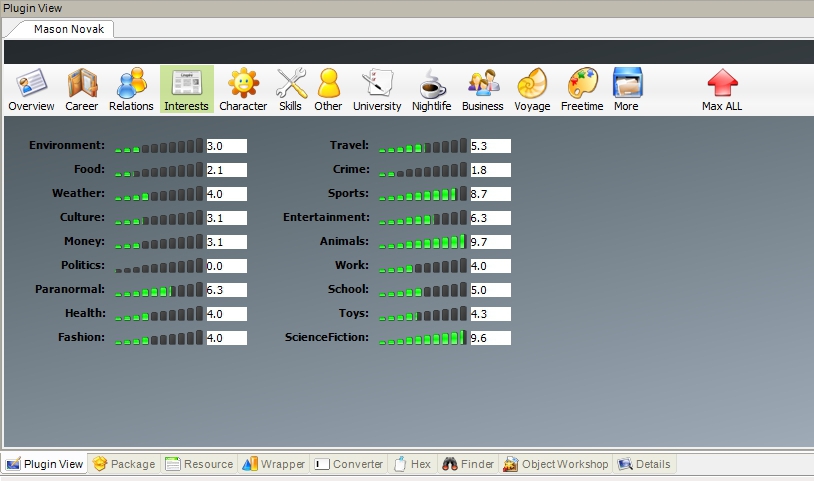 Mason's highest interests are Sports (9), Animals (10) and Sci-Fi (10). After we eliminate the hobbies he has no interests for, we are left with Film & Literature, Fitness, Games, Nature, Science, Sports and Tinkering.
Mason is much easier to match with a hobby than Zoe. He only has 9 or 10 points in most of these hobbies, apart from Science. For Science, he has 20 points, due to his interest in Sci Fi and Animals. I'm quite happy with that, because with a doctor for a dad and a natural scientist for a mum, it seems fitting that Mason would also grow up to be scientifically minded.
So that's it! Please feel free to simplify, complicate or otherwise adapt this system for your own games. If you do, I would love to know how it works out for you. As always, I welcome any and all questions in the comments. I would actually particularly appreciate comments and questions for this one, because I'm not entirely sure I made sense. So if I didn't, I'd love to know where so I can try to clarify.