This is going to be sort of half update, half tutorial. :)
After playing with the uberhood for several days and not seeing any of the issues I had with Sullivan, I'm even more convinced that it's the hood, not my CC or my drivers, or anything else.
So I've decided to rebuild Sullivan. I'll be posting updates about where I'm up to here, in the hope that it might help others or maybe even help me. If I'm going down the wrong track, I'm hopeful someone will pull me up and say "hey, there's a better way of doing this".
Anyway, yesterday, I noted down each family's money details in SimPE. Here's a screenshot for you: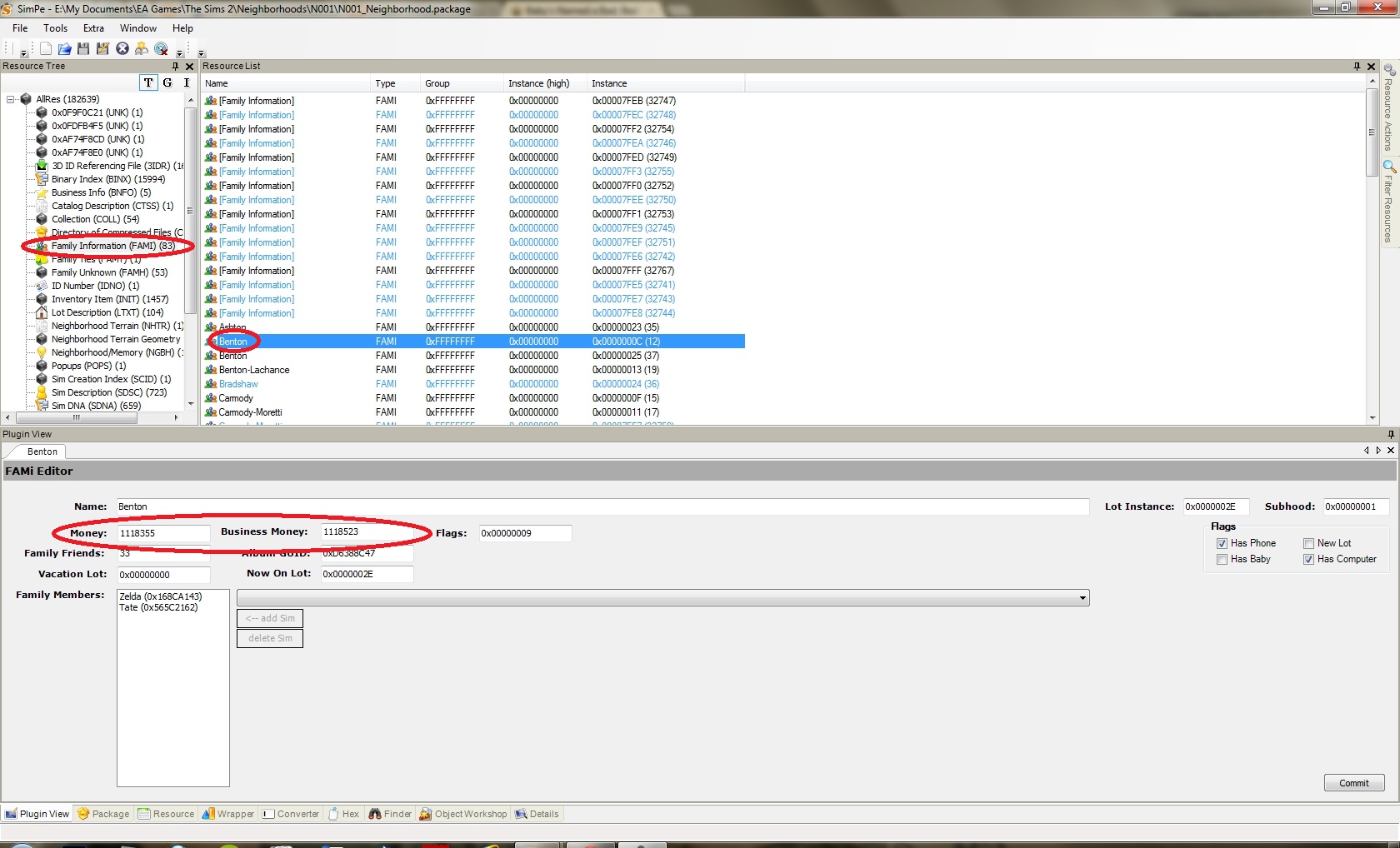 All these screenshots should be clickable - I know they're not legible at this size.
I couldn't figure out the difference between Money and Business Money. Tate and Zelda do indeed own a restaurant but the difference between the two amounts is so small that I really couldn't tell what information it was giving me. Also to be noted is that this is what the family have in
cash
. Their
worth
would be higher but as I'm planning on moving my lots over at this stage, I can figure out their worth easily when I go to put them in their house by just adding this figure to the price of the house.
Initially, I thought that was the only thing I wasn't tracking already but I forgot about skills and interests. Ugh. Interests might not seem important but they play a big part in how easily the sims can have successful conversations with each other. I want the new hood to be as similar to the old one as possible, so I took screenshots of the Interests and Skills tab in SimPE for each sim. That's 313 screenshots. It ended up being uneven, because I also hadn't tracked the personality of some of my playable NPCs, so I had to take some pics of that too. It was time consuming but pretty easy.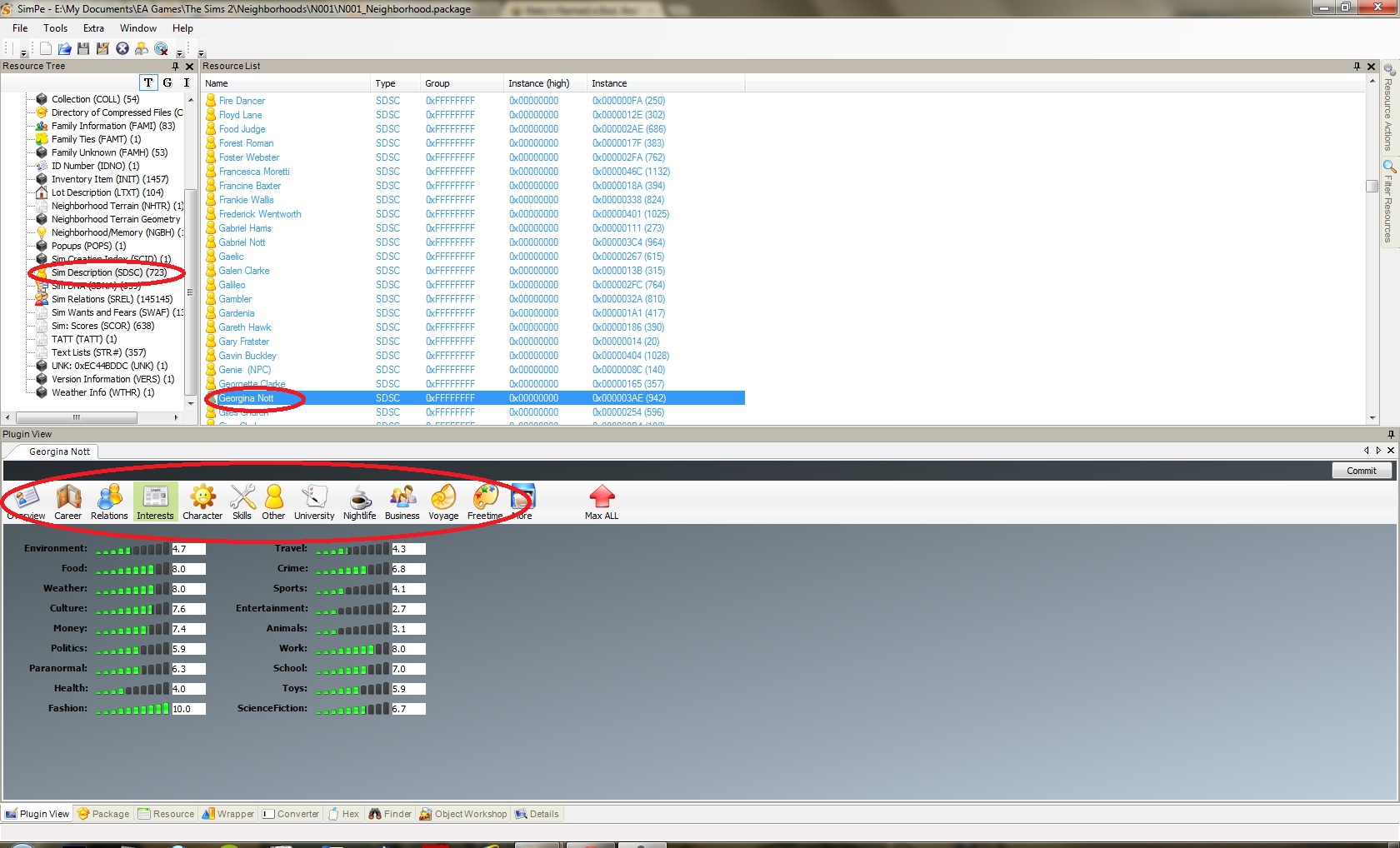 Sim Description, then the sim's name. The tabs should all be fairly self-explanatory.
Then I extracted and saved each sim. You can't do this with babies (well, the option is there but I don't see how you could do anything with them, seeing babies don't show up in CAS), so once I get set up, Alex will have to be "born again". I'm still undecided as to how many times I'm willing to reroll to get him looking exactly as he did the first time around but I'll cross that bridge when I come to it. Anyway, here's a screenshot: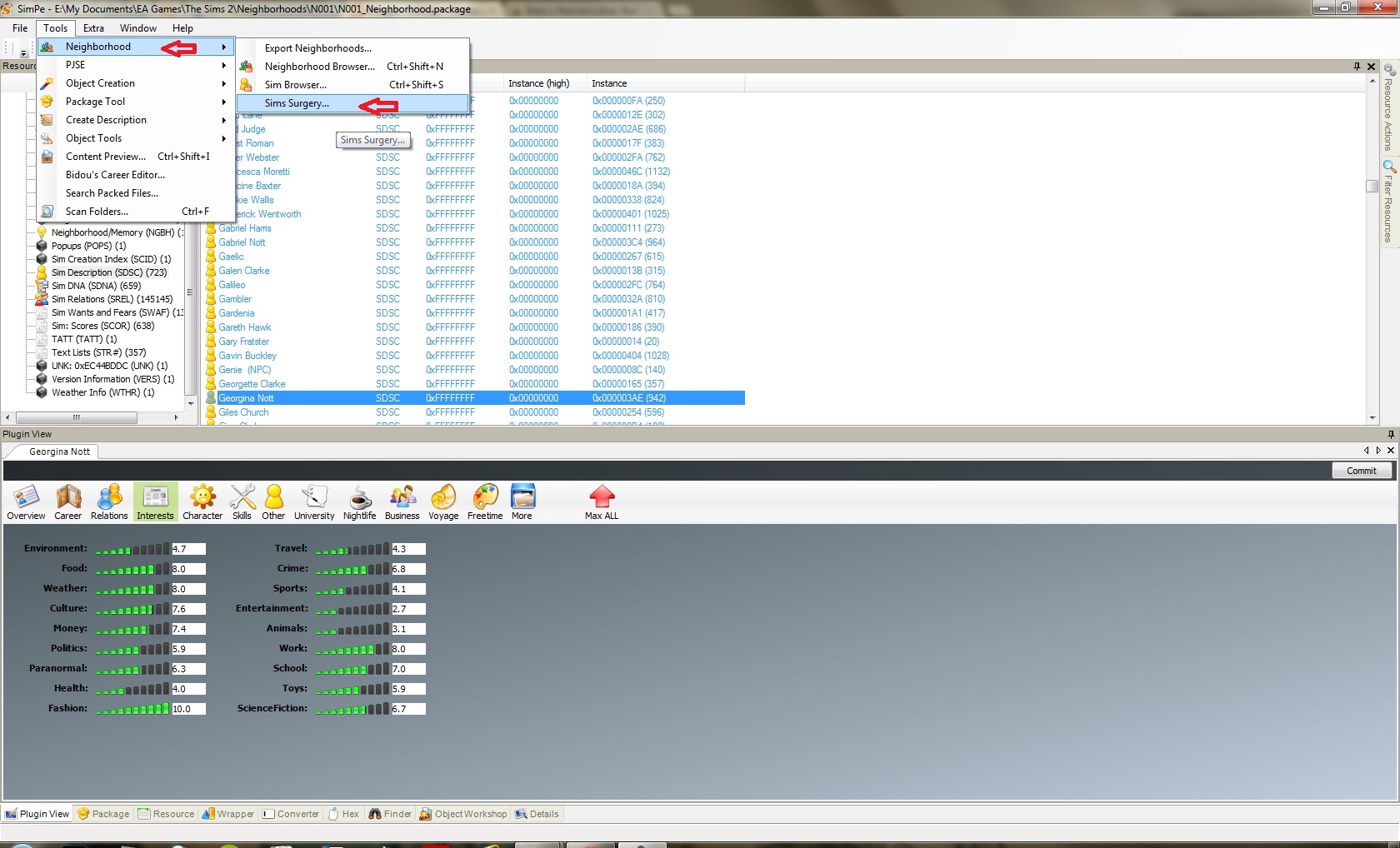 Click on Tools, then Sim Surgery. That will bring up a pop-up that looks like this: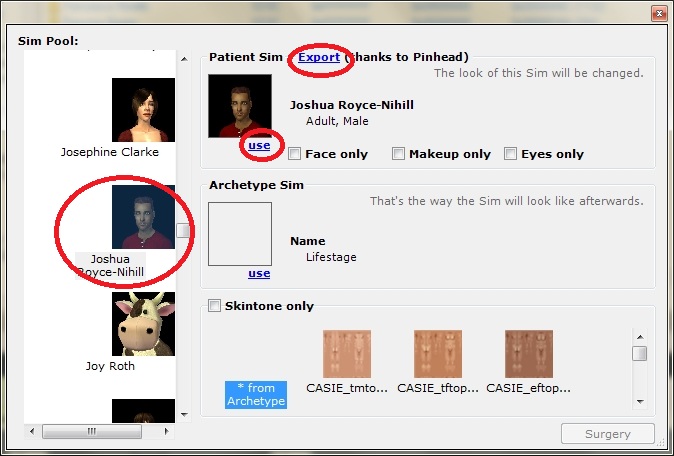 So you'd click on your sim, then click "use" under Patient Sim. We don't need to worry about the Archetype Sim if we're just extracting. Then you click Export, which will bring up a window prompting you to save the file. The default place is SavedSims, which is fine, assuming you're not reinstalling or anything.
My next step will be installing the clean templates. I'm going to have a look at that today and if I discover anything helpful in the course of setting those up, I'll post it here. :)