This could probably be subtitled "A Glimpse Into the Mind of a Complete Nerd".
I've been toying with doing a post about how I keep track of everything in Sullivan and I'm finally getting to it. This will be an opportunity for you all to either a) take some of my ideas, adapt them for yourselves and join me in my nerdery or b) point and laugh at the crazy person. ;) Up to you!
My tracking system is multi-faceted and I have two ways of tracking some things. The whole thing is basically set up so I have to do as little maths as possible. It probably looks a bit strange to some, but it really works for me.
First of all, I use
Flashnote
to track everything and I cannot recommend this program highly enough! It works just like Notepad, only you don't have to save and instead of having hundreds of text files that you have to open individually, everything is organised under sub-menus in the sidebar.
Here's what my Flashnote looks like currently: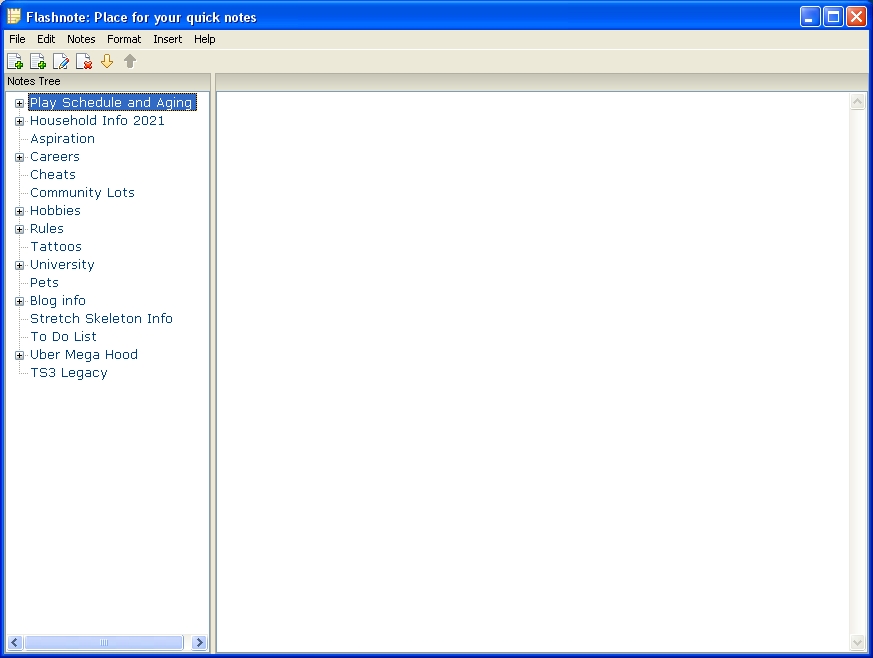 Up the top, I have my Play Schedule and Aging, with Aging Threshholds at the top.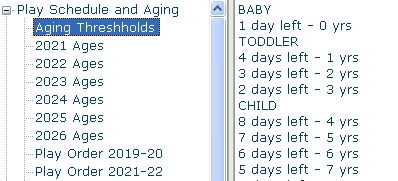 I no longer refer to this very often but I keep it in anyway. It's handy when I'm moving in a townie to know exactly how many days left they'd need to be the age I want them to be. All my townies were created before I put Inge's age tweak in, so by default, they have 29 days left as an adult and I usually want to adjust that.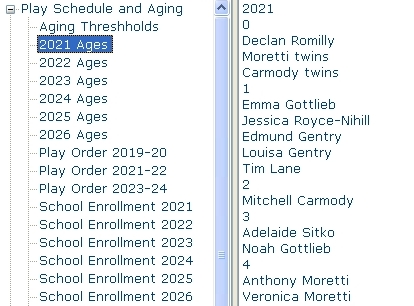 This is what I use more often - a list of every single Sim's age for the next 3 rounds. When I'm figuring out who needs to be aged up when, this is where I check.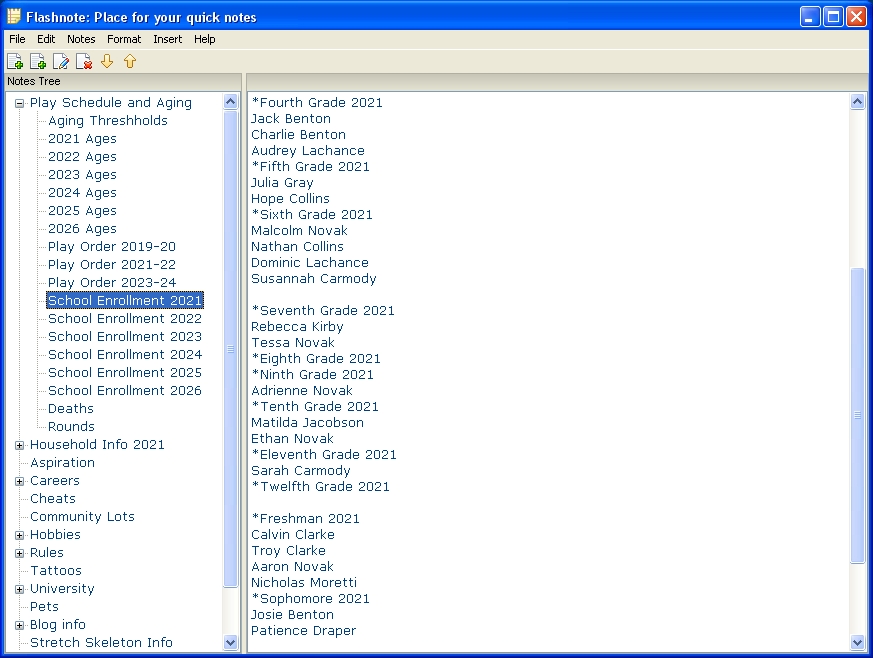 School enrolment. This is what I refer to when I'm enrolling the kids when I play my schools. I generally expel and re-enrol them each time. Really, I could just use the age list for school enrolment. But I may be slightly OCD, because there are several organisational things I do that are quite unnecessary but I just
have
to do them!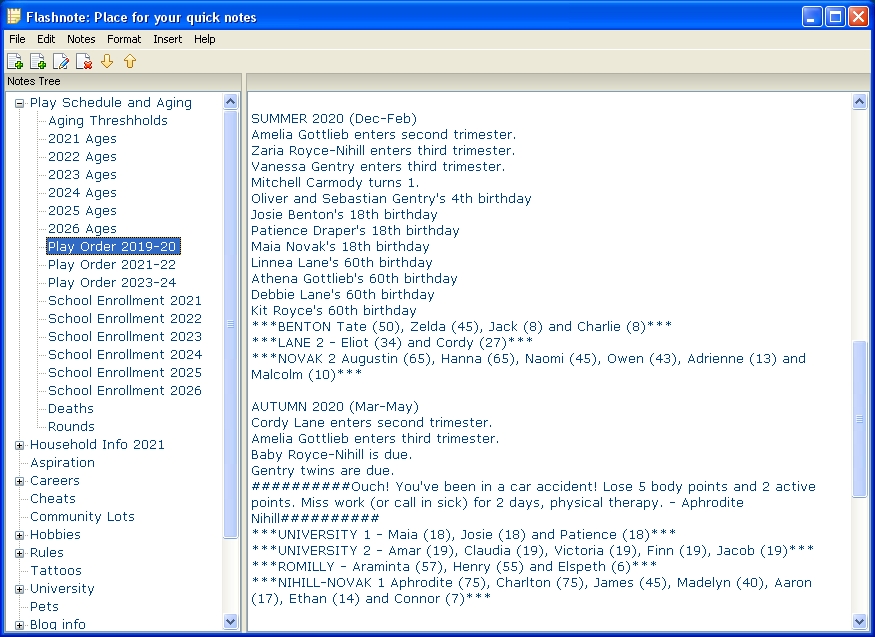 This is the most important part - my play schedule. The play schedule lists which families will be played in which season. I usually map out the play schedule towards the end of the previous round. This is the play schedule for Round 24, the round we just finished, so there are no spoilers here! And um...ignore
Zaria
's surname - that's a mistake, not a marriage I've neglected to mention (as if
I'd
do that!) She's still a Royce.
Anyway, once I've played a family, I put three stars on either side of that family. I don't really lose track of where I am at this point, but the stars give me a feeling of accomplishment, so I do it anyway. ;)
Any ROSs due in each season are also listed and are bordered with hashes (these things ### - I think they're called pound signs in the States). This is really just to draw attention to them, or else I often forget to carry them out! You can't see any deaths here but I list elder deaths in capital letters right under the season, so I don't miss them.
Under each season, I also take note of who's aging up when, any pregnancies I need to advance and any babies who need to be born.
Also under Play Schedule and Aging, you can see "Deaths". I won't show you that but it's a list of when every single elder in Sullivan will die and how old they'll be. For example, for
Maria Moretti
's death, it just said "Maria Moretti will die at 77 in 2020". Most of you know that I write up a lot of my obits well in advance - well, that's how I know when they'll be needed. As soon as I age my Sims to elder, I use
Inge's Days Left Shrub
so I know how long they have to live.
Moving right along to Household Info!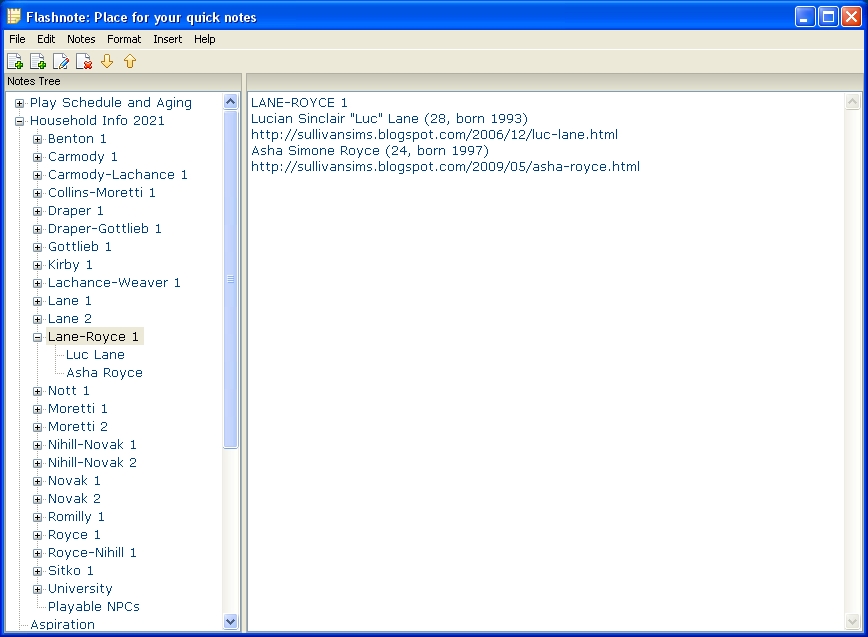 For each household, I list all the Sims who live there, along with their full name, age and the URL for their profile. Having the URLs of the profiles right in my Flashnote makes it much easier to write my updates.
Under each household, each Sim also gets their own profile, which are more detailed than the profiles here on the blog. I'm showing you
Luc
's profile because he's had a few partners and you can see how I set out the Romantic section when a Sim has a few notches on their bedpost. I don't include one-offs (of which Luc has had many), because I don't usually need to refer to them again. But it's handy for me to know that he dated
Rose
for a year in high school and that he was with
Cara
for a couple of years in college.
Any graduates get their university GPA tracked too. If they graduate with honours, I often cheat them into their chosen careers. It seems to make sense to me that employers would be seeking the "best and brightest", so I reward my top students that way sometimes. Everyone else has to wait for the jobs to come up on the computer.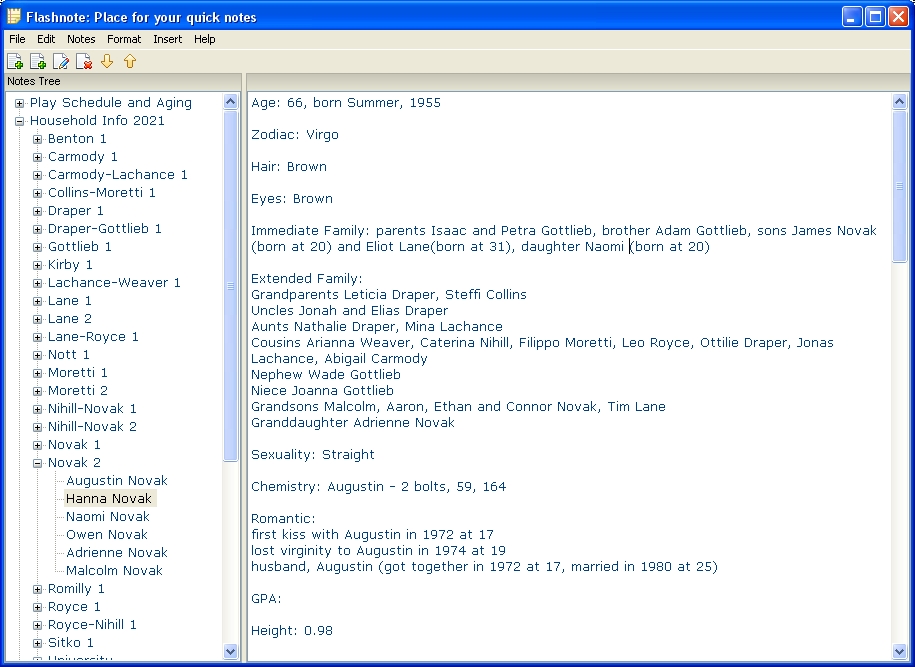 This is
Hanna Novak
's profile, just so you can see what the profiles look like once the Sim has had some children and grandchildren. Having the whole family listed makes it really easy to pick and choose guests for family reunions and weddings.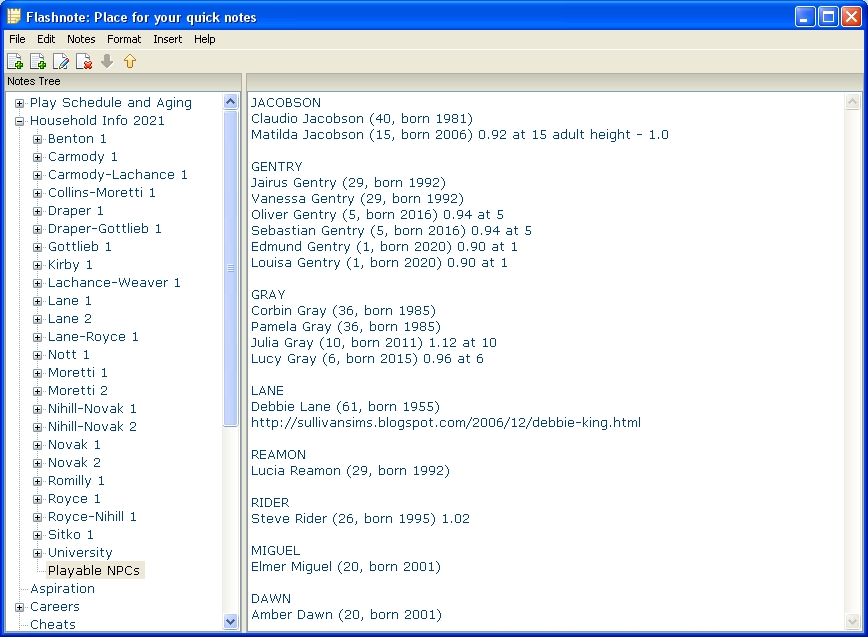 This is where I track
my playable NPCs
- much less information on them! Most don't have profiles on the blogs but I make note of the ones who do, so I can easily link to them when I'm writing my updates. So I list the household name, their ages and their heights, if I've changed those at all. With the playable NPCs, I sometimes don't bother.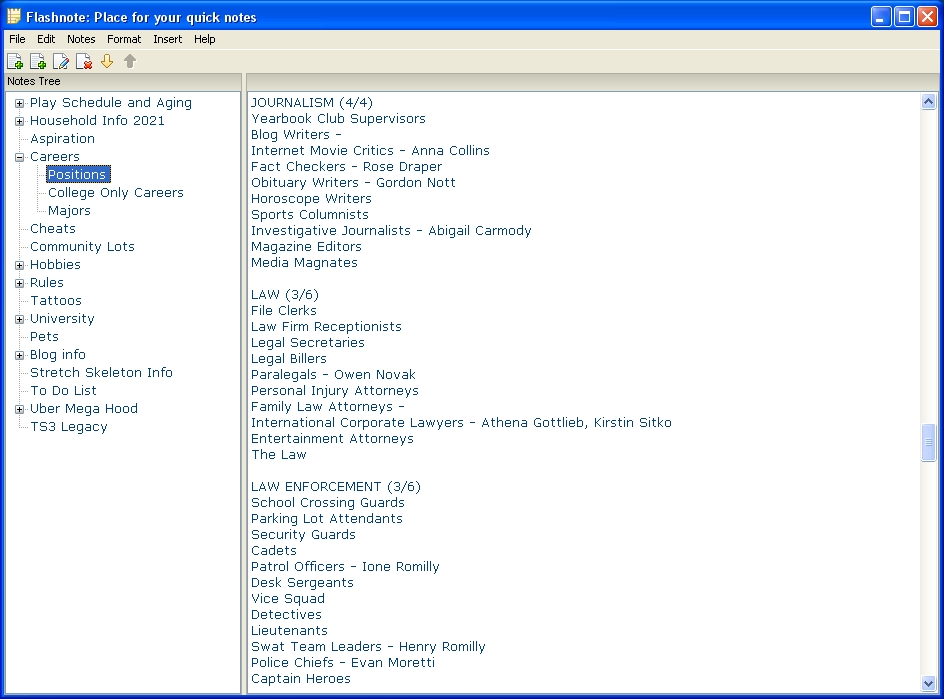 I don't include career information in those profiles, because I find it more useful to be able to see exactly where the Sims are in their career, in relation to the level and to their co-workers. So I do this instead. This is the most recent addition to my crazy system but it's come in handy several times already. It's much easier for me to check who a Sim's co-workers are by doing this than by clicking on every single Sim profile, either in Flashnote or on the blog.
Most of the other sub-menus just rehash information that's already on the blog or are things that are really only relevant to me. They're not super-secret or anything though, so if you're that curious, feel free to ask!